Finding faults in a changing map (The Nation : Sunday, January 30,2005 Page 4A)
by

Asst. Prof. Dr.Sombat Yumuang

Geo - InformaticS Center for Thailand [ GISTHAI ]

e - mail :
sombat@gisthai.org
When environmental geologist Sombat Yumuang logged on to the US Geological Survey and other related websites, he expected to learn what the world's leading body on earthquake science had to say about the Sumatran earthquake and tsunamis.
However, what he saw on the post-tsunami seismic map of the Andaman Sea and Thailand on January 11 took him by complete surprise. The USGS map contained several bright-red lines indicating some faults that had never been recorded on seismic maps of the region. Three were in Burma's Gulf of Martaban, and one cut across the South of Thailand.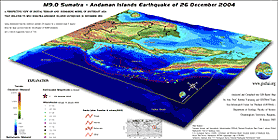 "We don't yet know exactly what these lines mean or how they became part of the seismic landscape," Sombat said, who lectures at Chulalongkorn University. "This appears to be new knowledge deserving of more study by geologists and seismologists in Thailand."
This discovery, as well as other new geological information since the December 26 events, seems to have become a magnet that now takes up 80 per cent of Sombat's time. As one of the leading experts in the application of geographical information systems (GIS) and remote sensing, he is working to develop a GIS-based map of Southeast Asia that contains updated seismic information so that the whole region has a comprehensive understanding of what the earthquake potential really is.
"But first we have to find out what new knowledge scientists in the West have developed and how we as latecomers with older technology can benefit from it," he said.
He appeared amazed by how quickly the USGS' Earthquake Centre had put together explanations, graphic illustrations and impact assessments of the 9.0-magnitude earthquake and tidal waves.
"We in Thailand have never witnessed a natural hazard on this scale before, so we just have to be humble and admit what we don't know and that we are not properly prepared. So now we must quickly tap and apply all existing knowledge from our fellow professionals out there," he said.

Sombat welcomes the prospect of increasing cooperation between Thailand and international seismic and geological centres, but he said local scientists should not simply be satisfied with the technology and information that would be made available to them.
"We certainly must obtain as much as we can from others, but we must also cooperate and find out how they developed their research so we can increase our capacity to do things ourselves. This will boost our confidence in dealing with future natural crises."
Sombat advocates making Thailand a scientifically more mature society. Geography as well as geoscience education and dissemination of geological knowledge is his next priority.
"It's not enough to know that natural hazards are coming: we also have to know how to dispatch prompt and effective warnings with accurate geoscientific information so people can get out of the way quickly."